About The Schwartz Sauerkraut Band
The Sauerkraut Band is one of several bands across the country with the same or similar name. The name Sauerkraut is often spelled "sour kraut" and pokes fun at the perception that the German band equates to an inebreated sound that may be found in a beer tent or corner Gasthaus. This name was a popular name throughout the 20th century and the best known was the "Guckenheimer Sour Kraut Band" directed by Dr. Fritz Guckenheimer (Richard B. Gump). The Guckenheimer Sour Kraut Band recorded three brilliant albums of German music, which are treasured possessions of the band. They were Oom-Pah-Pah in HiFi, recorded in 1956, Sour Kraut in Hi-Fi, recorded in 1957, and Music For Non-Thinkers, recorded in 1958. Click here to link to a site dedicated to the Guckenheimer Sour Kraut Band.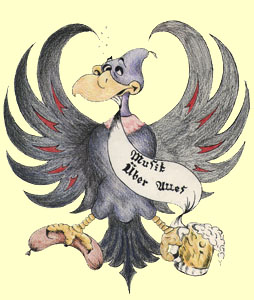 The Schwartz Sauerkraut Band is a professional musical organization based in the New River Valley in Southwest Virginia performing authentic German style music in traditional Bavarian style clothing. The original incarnation of the band started in Champaign, Illinois in 1980. By 1982, a second version of the band performed in Newark, Delaware, and the current band started performing in 1989 in southwest Virginia and performed for 24 years at the Oktoberfest celebration at Mt. Lake Resort in Giles County, Virginia.
The musical styles include traditional beer tent favorites such as Leichtensteiner Polka, Rosemunde (Beer Barrel Polka), Alte Kameraden Marsch, Yorkshire Marsch, and group-participation numbers such as The Chicken Dance and Rucki Zucki. Comprised of over a dozen members, the band's repertoire spans a wide range of polkas, waltzes, and marches, as well as folk dances such as the landler, schuplattler, and zwiefache.