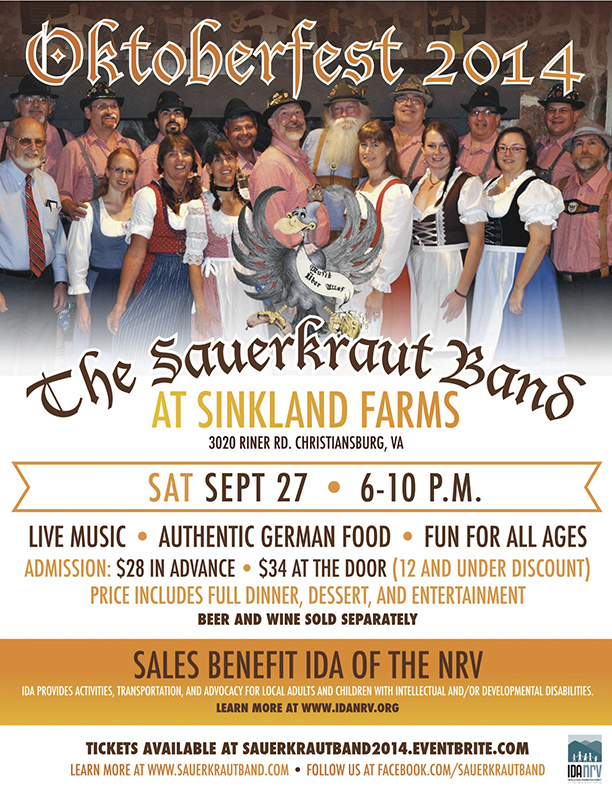 OKTOBERFEST 2014!
SEE THE SAUERKRAUT BAND, Saturday, September 27, 2014 at Sinkland Farms!
The Sauerkraut Band is pleased to announce our Oktoberfest at Sinkland Farms on Saturday, September 27, 2014. Click here for Reservations! or, go to our Schedule for more information!
The Sauerkraut Band is a professional musical organization based in the New River Valley in Southwest Virginia performing authentic German style music in traditional Bavarian style clothing.
The musical styles include traditional beer tent favorites such as Leichtensteiner Polka, Rosemunde (Beer Barrel Polka), Alte Kameraden Marsch, Yorkshire Marsch, and group-participation numbers such as The Chicken Dance and Rucki Zucki. Comprised of over a dozen members, the band's repertoire spans a wide range of polkas, waltzes, and marches, as well as folk dances such as the landler, schuplattler, and zwiefache.
| | |
| --- | --- |
| Hear the band perform Alte Kameraden | |
| and Ein Prosit der Gemütlichkeit. | |